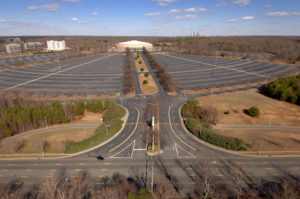 Charlotte Coliseum History
In 2006, Pope & Land Enterprises, Inc. raised more than $30 million of debt and equity to acquire the former Charlotte Coliseum in North Carolina. The Coliseum was home to the NBA Charlotte Hornets and the WNBA Charlotte Sting. It was also the main venue in Charlotte for national and international entertainment, political and cultural events. Over the span of almost 20 years, the Charlotte Coliseum hosted countless events from concerts by Frank Sinatra, U2, Bruce Springsteen and Michael Jackson to several NCAA Final Four Championships to presentations by Mother Teresa and Rev. Billy Graham.
In June 2007, Pope & Land Enterprises, Inc. demolished the Coliseum and began preparing the 150-acre site for redevelopment into City Park, a mixed-use community featuring new multi-family, single family, retail, office and hotel development. City Park will be surrounded by The Loop at City Park, a three-mile, hard surface trail system that provides pedestrian connections to the developments and amenities that are adjacent to the site.