Mixed-use, residential projects get City Council OK at zoning meeting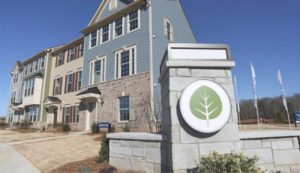 BIZJOURNALS.COM
By: Ashley Fahey – Staff Writer, Charlotte Business Journal
October 16, 2018, 7:40am
A number of rezoning petitions got Charlotte City Council's approval at the monthly zoning meeting on Monday night.
But one slated to be voted on, a highly contentious project pegged for the heart of NoDa, was deferred to next month's council meeting for a vote. That project, proposed by Revolve Residential, drew the ire of some NoDa residents who said at last month's council meeting that any type of commercial uses planned and the subsequent traffic were of concern.
The project (at Charles Avenue, Whiting Avenue, Spencer Street and Clemson Avenue) calls for 16 single-family homes, four townhouses eligible for the city's HouseCharlotte program and about 16,000 square feet of adaptive reuse at an existing church on site. Those uses would be limited to events or community space and coworking offices.
City planning staff continued to recommend denial of the petition as of Monday night. Ed McKinney, assistant planning director at the city, said at last month's public hearing that the project's proposed density isn't consistent with the surrounding neighborhood and that the building orientation and scale were also not in keeping with the neighborhood.
That petition, along with other deferred projects, will be considered at next month's zoning meeting.
Projects that were approved by council on Monday include:
Northlake System LLC's petition to build up to 40,000 square feet of retail, restaurant and office uses, as well as a 180-room, eight-story hotel, at the northwest intersection of Point O'Woods Drive and Northlake Centre Parkway. The proposed project would be developed on a 7.1-acre site across from Northlake Mall and next to Madison Square at Northlake apartments. A site plan filed with the petition indicates the hotel would be built at the hard corner of Northlake Centre Parkway and Point O'Woods Drive and the remainder of the development would include two 4,000-square-foot buildings, one with a drive-thru, and a two-story, 32,000-square-foot building with ground-floor retail and 16,000 square feet of office on the second floor. Council unanimously approved the petition.
Pope & Land's petition to allow up to 260 townhouses on a 23.4-acre site within City Park, on the north side of West Tyvola Road, south of Yorkmont Road. City Park is a master-planned development at the former Charlotte Coliseum site that includes a mix of apartments, for-sale homes, retail, office and hotels. The project has delivered in phases, with already-completed projects including the CityPark View and CityPark View South apartments and the 210-room, dual-branded Marriott Fairfield Inn and Residence Inn. Council unanimously approved the petition.
Llewellyn Development's petition to allow up to 20 townhouses on a 3.5-acre site on the east side of Park Road and north of Sharon Road. The proposed project would redevelop three existing single-family homes to make way for single-family attached homes, with no more than four units per building. Certain submarkets in Charlotte have been targets for higher-density redevelopment, including the area around Park Road, which has caused angst within some neighborhoods. Council member Tariq Bokhari, who represents the district of the petition, noted the petitioner worked with the neighbors and planning staff on the petition. Council unanimously approved the petition.
Wallace Lane LLC's petition to allow up to 119 townhouses on a 9.3-acre site on the north side of Wallace Lane, east of Independence Boulevard. Council members Braxton Winston and LaWana Mayfield voted against the petition. "I felt we had a chance to increase density (even more) and create a transportation corridor that this area really wants and the type of development we're going to need moving forward," Winston said. An earlier iteration of the plan called for up to 165 townhouses. Homebuilder Ryan Homes is interested in building the townhouses, according to a community meeting report filed with the petition. The petition passed 9-2.